Various actions for support, assistance and tactics
Our premium Consulting & Analysis service includes a pack of various actions for support, assistance and business advance tactics that can drive additional conceptions for progress.
---
Matu Hiva's team provides high-quality design audit for re-design and re-building modifications by analysing and assessing the current state of your website.
We are also experienced in the planning stage and conceptualization for higher achievements of your business, and initial or supervening brand identity establishment in the web.
For your image improvement we also count on efficient activity in gathering goals, as well as in providing modern and profitable content or copywriting strategies (content development from zero and website content management in existing pages, including proofreading).
Consulting & Analysis service offers device planning in case of responsive design availability, creating wish lists and building a solid information architecture plan with the following basic points of view:
- Digital customer experience / UX consulting;
- Business discovery and Analysis;
- Understanding Audience.
Below you can read the rest of the services that come in our Consulting & Analysis pack:
As a result of all these actions, we structure a plan for our strategy which is followed by high quality and expert implementation with these steps of performances:
- Construction of web standardized coding
- Digital transformation
- Platform based solution or Custom development
- System Integration
- Data migration
- Asset delivery
- Maintenance Stage
Consulting & Analysis Stages
▼ Design Audit (for Re-Design/Re-Building – analyze and assess the current state of your site)
▼ Planning Stage and Conceptualization
▼ Brand Identity
▼ Gathering Goals
▼ Digital Marketing Strategy
▼ Content Strategy and Copywriting
▼ Content Development
▼ Website content management
▼ Device Planning (within Responsive Design)
▼ Compare and chose from other Websites > Creating Wish list
▼ Information Architecture
- Digital customer experience / UX consulting
↕ - Business discovery and Analysis
- Understanding Audience
- Drafting the strategy
↕ - Digital marketing suggestions and solutions
- Editing the Strategy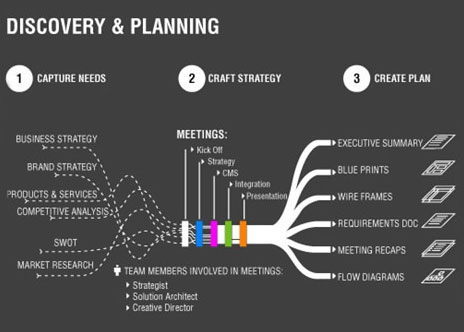 ▼ Mapping business requirements to features
▼ Technical Adds
▼ Website Hosting
▼ Browsers
▼ Domain Name and Web Address
▼ Selecting the platforms
▼ Overall concept
▼ Proofreading
▼ Planning releases for iterative solution improvement
▼ Implementation stage:
(. Construction of web standardized coding)
(. Digital transformation)
(. Platform based solution or Custom development)
(. System Integration)
(. Data migration)
(. Asset delivery)
(. Maintenance Stage)
▼ Possible risks and issues